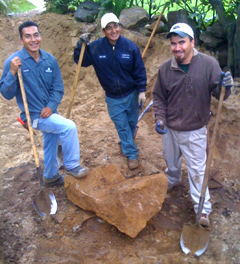 Richard Sperber Landscaping was started as a one man operation in between college classes during Rich's first years in law school. It was there that he realized his true calling was the gift for creating beauty in our landscapes and living environment.
The company grew from a small office, to the fully staffed commercial yard and nursery it is today. Richard Sperber Landscaping is located in the heart of East Hampton, and our service area has remained constant over the years stretching from the far corners of Montauk to Southampton and beyond.
Our team members, most of which have been with the company for many years, are all committed to the success of the company and beautification of your properties. Our Crew Chief that works out in the field daily has worked here for more than 15 years. With these years of experience our crew members are very knowledgeable about your property as they have seen it grow and thrive over the years. This familiarity with your property allows us to give you a personalized experience as each crew can access your needs week after week. We encourage the further education of our crew to better serve your needs.
Sperber Landscapes has really taken pride in advancing our equipment from an old international farm tractor and a pick-up truck to an entire fleet of trucks, dump trucks, several tractors, back hoes, spray rigs, wood chippers, a fleet of snow plow equipment, and too many pieces of small lawn equipment to mention. We work year round offering a full spectrum of services. Basically we take care of anything relating to your real property from the roof to the basement. Our services list has the high points of what we offer.
Rich has been at the forefront of the Green movement before it was a buzzword. Rich has dedicated time every year to continue his education in IPM (Integrated Pest Management) techniques, always taking extra care to research new products and how they affect our environment. Using organic products has been an important part of our service for many years.
We continue to grow, add staff, add customers but our commitment remains consistent that is to provide top notch service at reasonable prices on a year round basis to customers from Southampton to Montauk.
---
Staff
Richard Sperber - Owner, founder and President of Sperber Landscapes. He is a Licensed Pest Control Operator. His knowledge of plants, plant diseases and pests that affect our plants is vast. He participates in continuing education every year. He is intimately involved in the daily operations Sperber Landscapes.